Last week, my interview with Abydos Archaeology's Matthew Douglas Adams was published at Hyperallergic. The article focused on the discovery of an industrial royal brewery dating to 3100-2900 BCE at the Egyptian site of Abydos, where Adams co-directs the excavation with Deborah Vischak, as part of fieldwork supported by New York University's Institute of Fine Arts and Princeton University. In addition to contextualizing the discovery of this large-scale brewery, the article has a number of illustrations of later Egyptian models of breweries and brewery-bakeries that date to the Middle Kingdom (ca. 2030-1650 BCE). Although I did not have a chance to discuss these early 3D models, they give us great insight into the economic undertakings and daily life of Egyptians living many millennia ago. In fact, there is a rich history of ancient 3D models which would ultimately influence and inform the later development of digital modeling tactics.
Model Bakery and Brewery from the Tomb of Meketre, Middle Kingdom, (c. 1981–1975 BCE) The making of bread and beer were combined in this workshop model discovered in a chamber in the rock cut tomb of the royal chief steward Meketre, Metropolitan Museum of Art, New York City, New York (image via and courtesy the Metropolitan Museum of Art).
Every effigy has a purpose and for those funerary models that proliferated in the Middle Kingdom, they were meant to be used by the dead. They were used predominantly in the First Intermediate Period and Middle Kingdom in order to give furbishments to the deceased for use in the afterlife. As the Museum of Fine Arts in Boston notes in the label under a Middle Kingdom model of a funerary boat, these were utilitarian objects:
In symbolically providing for the tomb owner's needs, the models functioned in much the same way as painted scenes of these activities did on the walls of tomb chapels.
Funerary models were made predominantly of wood that was then painted––giving us early examples of polychromatic miniatures. As the model above from the Metropolitan Museum of Art in New York also exemplifies, these models give us recreations and confirmation of many archaeological remains; in this case the mixed workspace shared by brewers and bakers. Egyptologist Gersande Eschenbrenner-Diemer has a great article on the Petrie Museum's collection of Egyptian funerary models, which come predominantly from Sedment, south of Fayoum. She notes that Meir, in Middle Egypt, was known for "prolific wood workshops" where artisans often made such wooden models for the local necropolis and others in Egypt. Those artisans who made these models were highly trained sculptors and painters of wood.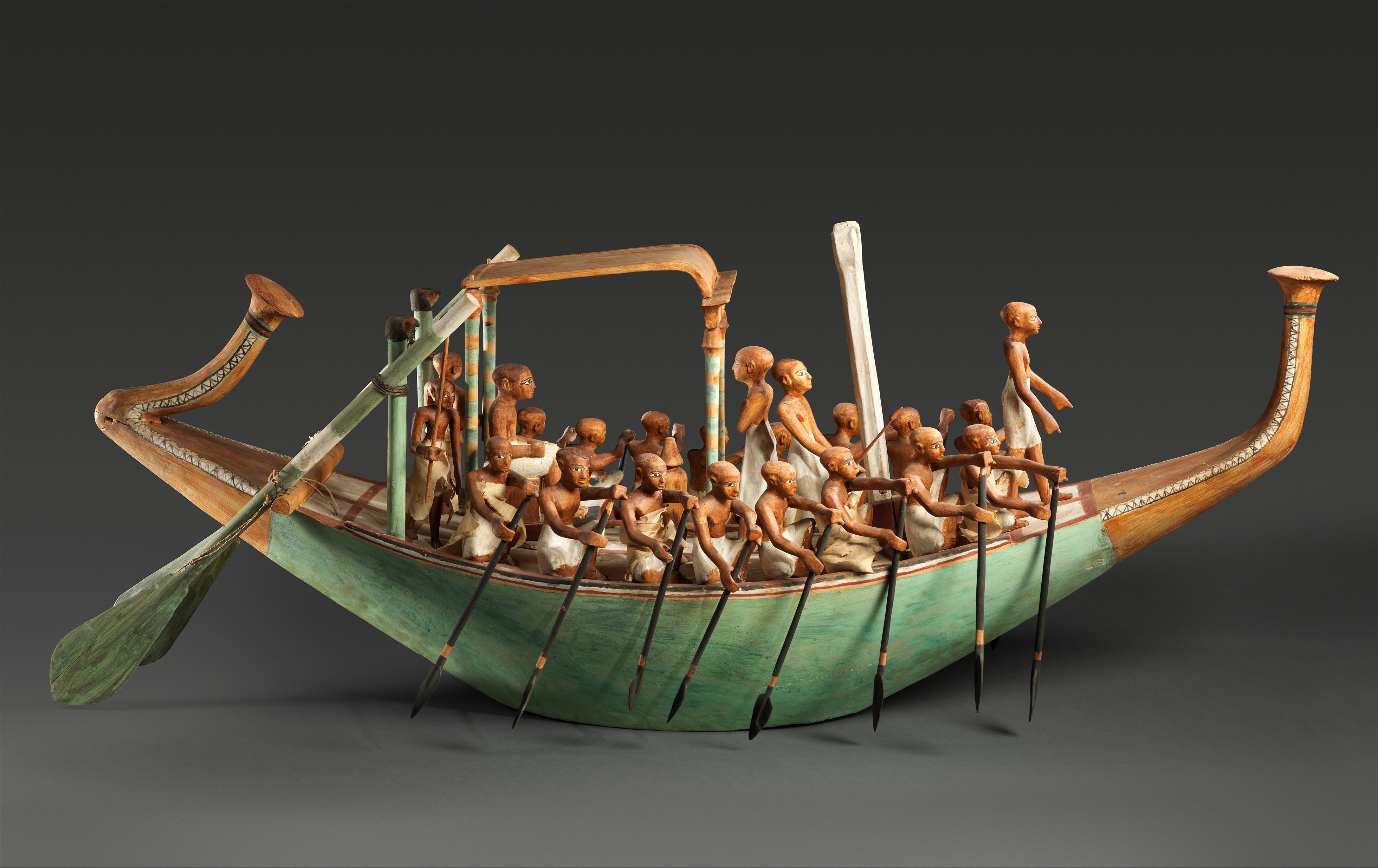 Another type of miniaturized effigy often overlooked is the architectural model; a genre that has also been around for thousands of years. In 2016, the Metropolitan Museum of Art explored the long history of "architectural effigies" in an exhibition called: Design for Eternity: Architectural Models from the Ancient Americas. As Met curator Joanne Pillsbury remarked, these models served as "symbolic embodiments" of political and religious power rather than architectural prototypes:
From the first millennium B.C. until the arrival of Europeans in the sixteenth century, artists of the ancient Americas created small-scale architectural effigies to be placed in the tombs of important individuals. These works in stone, ceramic, wood, and metal range from highly abstracted representations of temples and houses to elaborate architectural complexes such as palaces and ballcourts. Some are populated with dozens of figures, providing rare glimpses into the ritual and daily lives of the Aztecs, the Incas, and their predecessors.
In thinking about the digitization of museum pieces and the creation of 3D models today, we must certainly reflect on the long history of analog 3D modeling that preceded it. But there is also a desideratum to connect the data and research that already exists on the web. This need was apparent to me in particular as I glanced over the Egyptian models and objects from the Rosicrucian Egyptian Museum in San Jose, California now on Sketchfab. From Fayum portraits to a brewery tomb model, these pieces are stunning but––like objects within museums––need to have proper provenances, context, and accompanying text, along with linked open data that can create a proper context for understanding it.
The person I frequently turn to for mentorship on the ethics of 3D modeling and ancient Egypt is Hannah Scates Kettler, who is now the Head of Digital Scholarship & Initiatives at Iowa State University. A few months ago, our new volume on Linked Ancient World Data (LAWD) was published with ISAW-NYU and Hannah wrote a fantastic chapter on the history and logistics of 3D modeling and the London Charter, which was drafted beginning in 2006 to guide the Computer-based Visualisation of Cultural Heritage, thus "ensuring the methodological rigour of computer-based visualization as a means of researching and communicating cultural heritage. Also sought was a means of achieving widespread recognition for this method." As Scates Kettler remarked in her chapter, the London charter has a great effect on 3D modeling but also plays a role in the creation of Linked Open Data standards that allow for the linking and sharing of digital projects, data, and information generally
The principles outlined in the London Charter are not specific to a type of virtual cultural heritage product or a certain methodology, which is extremely useful when conceptualizing how and why Linked Open Data may apply to 3D scholarship. The charter is built to be technologically agnostic. The charter falls short only in its intentional vagueness. The purpose of this work is to provide principles for the creation and application of virtual cultural heritage scholarship. It is, as mentioned, not focused on any methodology and data collection practice. As such, many find this to be too vague to put into practice whilst conducting 3D research. However, I would advocate for its use when planning a 3D research project as it sets a set of ground rules for data production and also sets the tone for data dissemination. Not only does it provide this grounding, it also is the most generalizable and relatively holistic guide that is currently available. Still, the London Charter sets the stage for the creation of Linked Open Data and 3D scholarship.
Although I will be touching more on these topics in future posts focused on cultural heritage and digitization, the themes of establishing proper metadata and LOD standards for 3D models is important. As analog models migrate into the digital realm on sites like Sketchfab, it is important to continue to apply the museum and academic standards for context, research, and provenance established within the digital catalogues of many museum websites and reiterated in the London Charter. I would love to see more use of Linked Open Data on 3D modeling sites like Sketchfab and more linking to the catalogue entries for each model.
Nefertiti Bust by Rosicrucian Egyptian Museum (based on the bust taken to the Neues Museum in Berlin) on Sketchfab. In 2016, a controversy arose when the bust was secretley 3D scanned by Nora Al-Badri and Jan Nikolai Nelles and then the model donated to the Cairo Museum. Read more about this amazing act of digital repatriation at Hyperallergic, but keep in mind that the history of this bust and "The Other Nefertiti" project is not revealed in the above digital label for the Rosicrucian's model.